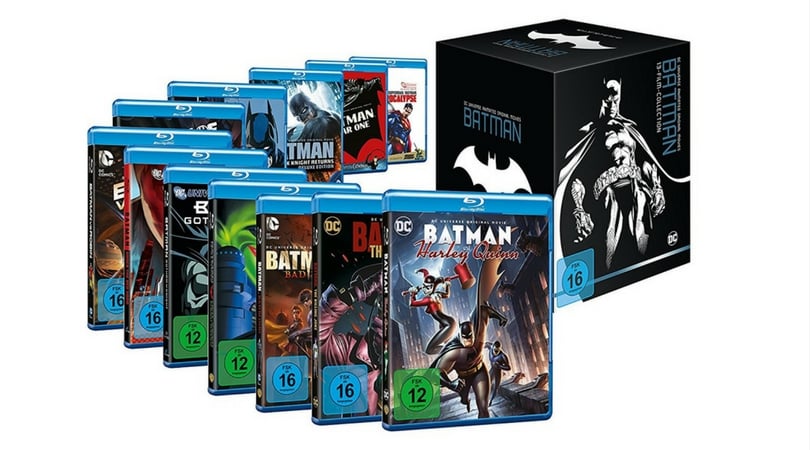 Aktuell kann man sich bei Amazon die "DCU Animation Batman Collection" (Blu-ray) für 59,97€ sichern.
Folgende Filme sind enthalten:
1 Batman: Gotham Knight
2 Batman: Under the Red Hood
3 Superman/Batman: Apocalypse
4 Batman of the Future: Der Joker kommt zurück
5 Batman: Year One
6 Batman: The Dark Knight, Teil 1
7 Batman: The Dark Knight, Teil 2
8 Son of Batman
9 Batman: Assault on Arkham
10 DCU: Batman und Harley Quinn
11 Batman: The Killing Joke
12 Batman: Bad Blood
13 Batman vs. Robin
Inkl. Specials und Bonusmaterial
Das Angebot kommt durch die Aktion "7 Tage Film-Schnäppchen" zustande, wo man sich bis zu 10€ Sofortrabatt sichern kann.
Bei einem Einkaufswert von 30€ gibt es 5€ Sofortrabatt
Bei einem Einkaufswert von 50€ gibt es 10€ Sofortrabatt
Der Rabatt wird erst an der Kasse angezeigt.
Jetzt bestellen
Bestell Link –> DCU Animation Batman Collection (exklusiv bei Amazon.de) [Blu-ray] [Limited Edition]
---