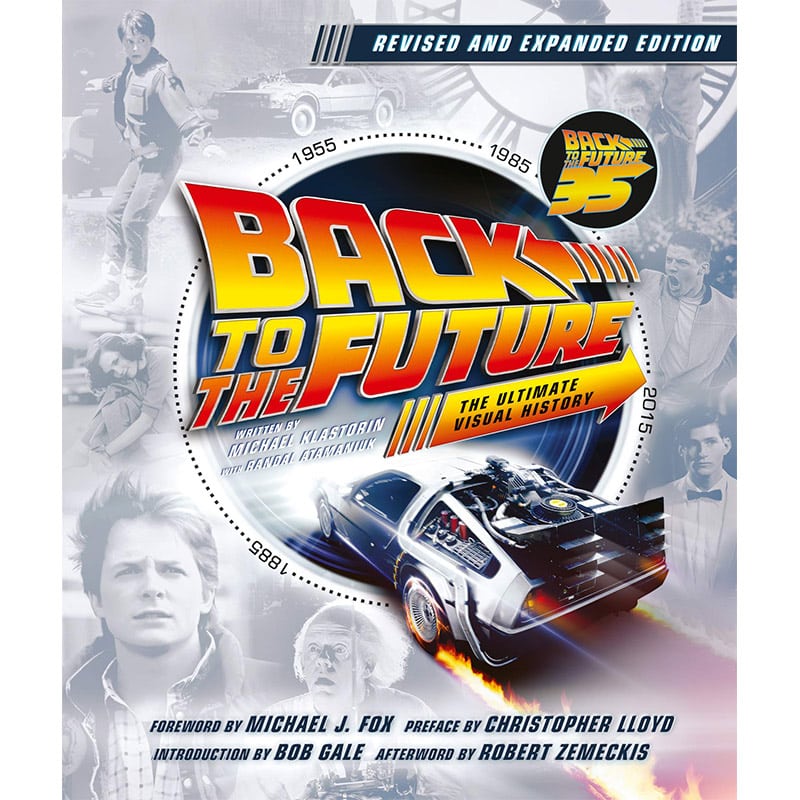 Aktuell bekommt man bei Amazon und Buecher das Buch "Back to the Future Revised and Expanded Edition: The Ultimate Visual History" in der gebundenen Ausgabe (224 Seiten/ Englisch) für 28,99€.
Details
"Back to the Future: The Ultimate Visual History Revised and Expanded Edition is a stunning journey into the creation of this beloved time-traveling saga and features hundreds of never-before-seen images from all three movies, along with rare concept art, storyboards, and other visual treasures.
The revised and expanded 35th anniversary edition includes incredible new features such as:
16 additional pages of new behind-the-scenes content
USA Today front page insert from the original movie
The book also features exclusive interviews with key cast and crew members—including Michael J. Fox, Christopher Lloyd, Lea Thompson, Robert Zemeckis, Bob Gale, Steven Spielberg, Frank Marshall, Kathleen Kennedy, and more—and tells the complete story of the production of the movies, from the initial concept to the staging of iconic scenes such as the "Enchantment Under the Sea" dance and the hoverboard sequence. The book also delves into the wider Back to the Future universe, exploring the animated television show and Back to the Future: The Ride.
Written by Michael Klastorin—the production publicist on the second and third movies—with Back to the Future expert Randal Atamaniuk, this book delivers a range of surprises from the Universal Pictures archives and also includes a wealth of special removable items….."
Das Buch beinhaltet folgende herausnehmbare Items:
Hill Valley High School Tardy Slip
Back to the Future The Ride security pass
Save the Clocktower leaflet
Sepia photograph of Marty and Doc from Part III
Marty's note to Doc from the first film with the envelope
George McFly's book
Jaws 19 movie poster
George and Lorraine's prom photo
Doc's flux capacitor sketch from the first film
Doc's note to Marty from 1885
Biff one dollar bill from Part II
Blast from the Past receipt from Part II
Lenticular version of the iconic McFly family photo from the first film
Jetzt bestellen