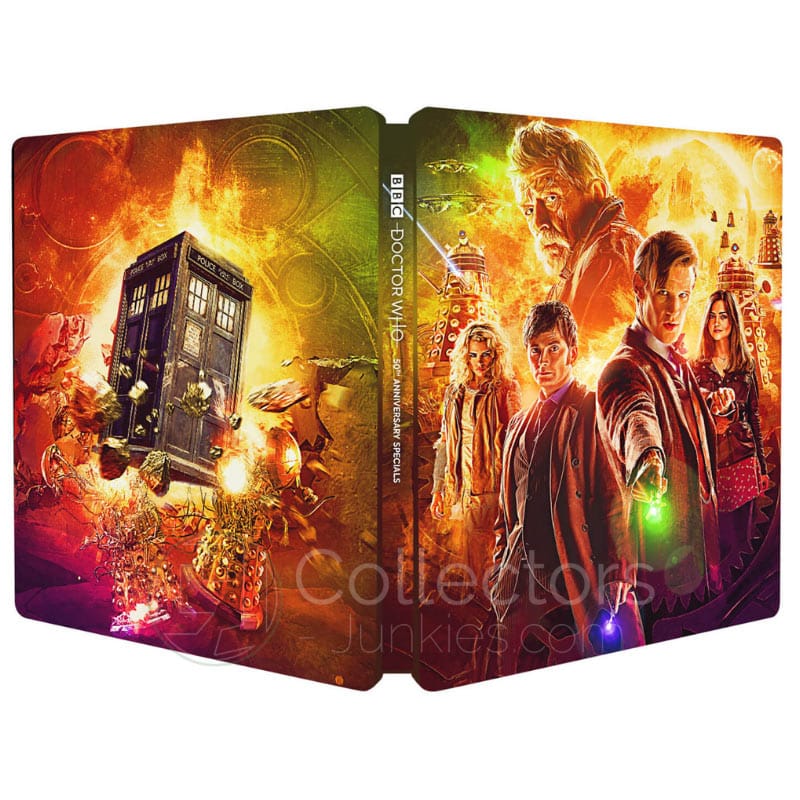 Ab sofort kann man in England die ""Doctor Who Limited 50th Anniversary Steelbook Edition" vorbestellen.
Tonspuren
Inhalt
Includes special episodes and over 7 hours of extras
The Name of the Doctor
The Night of the Doctor
The Day of the Doctor
The Time of the Doctor
An Adventure in Space and Time
Extras
The Name of the Doctor Behind The Scenes
Doctor Who – The Ultimate Guide
Behind the Lens: The Day of the Doctor
Script to Screen: 50th Read-through
The Last Day
Tales from the TARDIS
Cinema Intros: The Doctor / Strax
Trailers
Behind the Lens: The Time of the Doctor
A Night with the Stars: The Science of Doctor Who
Deleted scene
Farewell to Matt Smith
William Hartnell: The Original
The Making of AAISAT
Reconstructions: Scenes from An Unearthly Child / The Pilot / Regeneration
Deleted Scenes: The Radiophonic Workshop / Verity's Leaving Party
Farewell to Susan
Festive Greeting
Title sequences
The Five(ish) Doctors
Doctor Who at the Proms 2013
Der genaue Releasetermin ist aktuell noch nicht bekannt.
Jetzt bestellen
Versand & Zahlung Zavvi
Zahlung per Paypal oder Kreditkarte
1,49€ pro Lieferung (teilweise Versandkostenfrei)
Zollgefahr: Einfuhrsteuer (19%) ab etwa 26€ Gesamtwarenwert (wenn von Kanalinsel Jersey versendet wird).
Zusätzlich kann eine Auslagepauschale der deutschen Post in höhe von 6€ erhoben werden (wird nicht fällig, wenn die Sendung beim Zollamt hinterlegt wird).
Zahlung & Versand Amazon UK
Zahlung per Kreditkarte.
Einloggen kann man sich mit den deutschen Amazon Account Daten.
Zollgefahr: Nein
als Tipp: zahlen sollte man nicht in Euro sondern in Pfund, da man so (wegen des schlechten Amazon internen Wechselkurses) günstiger liegt
---