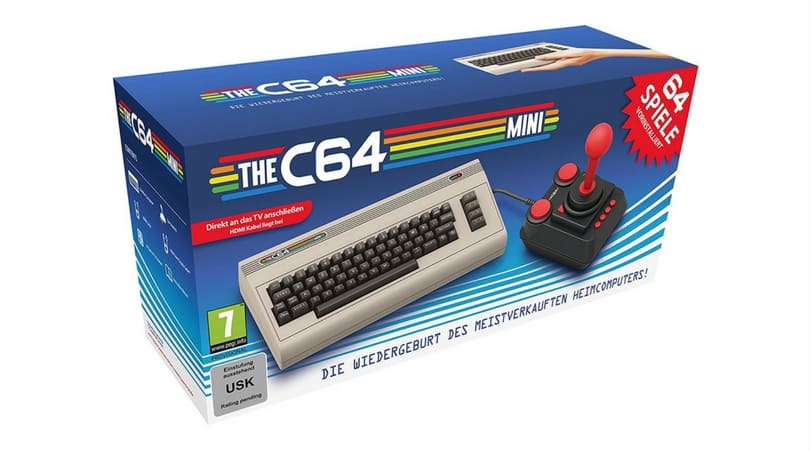 Aktuell kann man sich in Frankreich (Amazon) die "C64 Mini" Kosnole zum Normalpreis von 79,99€ zzgl. 6,12€ Versand sichern.
Lieferumfang:
THEC64 MINI Konsole
Klassischer USB Joystick
HDMI Kabel
USB Stromkabel (USB Netzteil ist nicht im Lieferumfang enthalten)
64 vorinstallierte Spiele
Eckdaten:
Genaue Funktionsweise des C64
PAL- und NTSC-Modus (50 & 60 Hz)
Pixel-Filter für bessere Grafik (höhere Bildschärfe, CRT, Scanlines-Emulation)
Pixel für Pixel – perfekte Grafik
Speicherfunktion
2 USB Ports (wird eine USB Tastatur angeschlossen, kann THE64 MINI wie ein Heimcomputer genutzt werden. Optional kann ein zweiter Joystick für Multiplayer-Spiele angeschlossen werden)
Per USB-Speichermedium können Firmware-Updates durchgeführt werden
Mehrspieler-Sessions sind möglich
Vertrieb: Koch Media
Folgende Spiele sind enthalten:
AlleyKat
Anarchy
Armalyte: Competition Edition
Avenger
Battle Valley
Bounder
California Games
Chip's Challenge
Confuzion
Cosmic Causeway: Trailblazer II
Creatures
Cyberdyne Warrior
Cybernoid II:  The Revenge
Cybernoid: The Fighting Machine
Deflektor
Everyone's A Wally
Firelord
Gribbly's Day Out
Hawkeye
Heartland
Herobotix
Highway Encounter
Hunter's Moon
Hysteria
Impossible Mission
Impossible Mission II
Insects In Space
Mega-Apocalypse
Mission A.D
Monty Mole
Monty on the Run
Nebulus
Netherworld
Nobby the Aardvark
Nodes Of Yesod
Paradroid
Pitstop II
Rana Rama
Robin Of The Wood
Rubicon
Skate Crazy
Skool Daze
Slayer
Snare
Speedball
Speedball II:  Brutal Deluxe
Spindizzy
Star Paws
Steel
Stormlord
Street Sports Baseball
Summer Games II
Super Cycle
Temple of Apshai Trilogy
The Arc Of Yesod
Thing Bounces Back
Thing on a Spring
Trailblazer
Uchi Mata
Uridium
Who Dares Wins II
Winter Games
World Games
Zynaps
Jetzt bestellen
---
Zahlen kann man hier nur per Kreditkarte. Einloggen kann man sich mit den deutschen Amazon Account Daten.
---