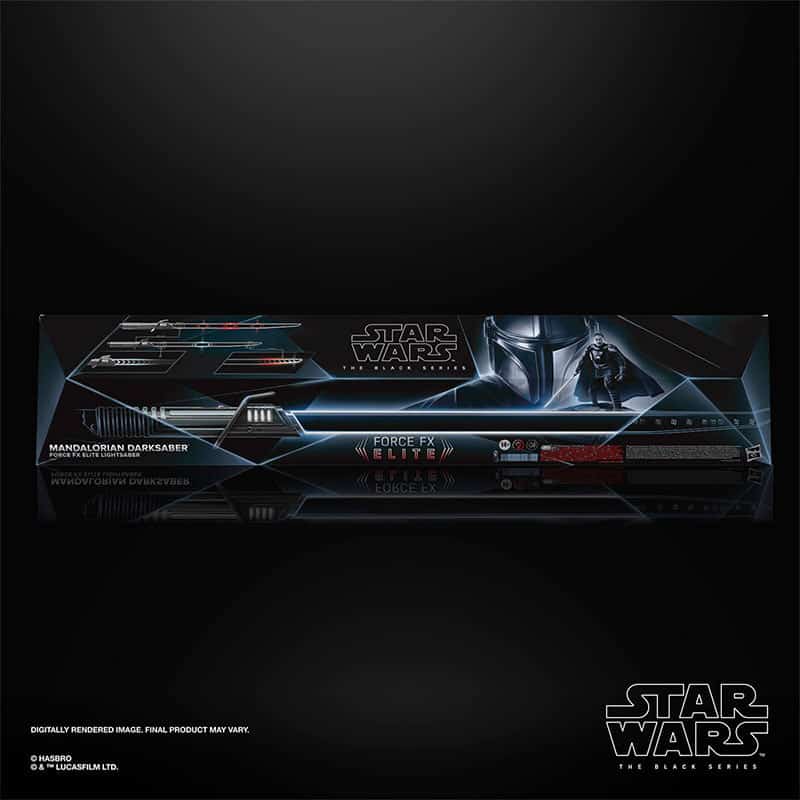 Update 13.01.2021: Das Schwert kann jetzt auch bei Amazon bestellt werden.
---
Ab sofort kann man das "Mandalorian – Darksaber" Force FX Elite Lichtschwert aus dem Hause Hasbro (The Black Series) vorbestellen.
Details
von Hasbro (The Black Series)
ADVANCED LEDS WITH SOUND EFFECTS: Combining advanced LEDs and entertainment-inspired Lightsaber sound effects, the Force FX Elite Lightsaber is the most realistic Force FX Lightsaber yet
ENTERTAINMENT-INSPIRED SOUND EFFECTS: Features authentic Lightsaber sound effects inspired by The Mandalorian series, including power-up, power down, and motion sensor-controlled idle hum and battle clash effects
ENTERTAINMENT-INSPIRED LIGHT EFFECTS: Features progressive ignition, battle clash effect, molten tip effect, light-up hilt, and the first-ever Star Wars Force FX Elite Lightsaber white LED blade edge
PREMIUM DETAILING FOR AUTHENTICITY: The durable light-up metal hilt features design and deco based on the Darksaber seen in the live-action series The Mandalorian on Disney Plus
INCLUDES STAND: Proudly display this Mandalorian Darksaber Force FX Elite Lightsaber in any Star Wars collection with the included stand, with or without the removable blade
Der Release ist voraussichtlich im August 2021.
Jetzt bestellen
Zahlung & Versand Actionfiguren24
Zahlung per Paypal, Kreditkarte, Sofortüberweisung, per Nachname oder auf Rechnung.
Versandkosten 3,90€ | ab 65€ Bestellwert ist der Versand kostenlos.
Mit AF24 Mitgliedschaft zusätzlich 7% auf jede Bestellung sparen.
Versand & Zahlung Comiccave
Zahlung per Paypal und Vorkasse.
Versand ist in Deutschland kostenfrei.
Versand & Zahlung Zavvi
Zahlung per Paypal oder Kreditkarte
1,49€ pro Lieferung (teilweise Versandkostenfrei)
Zollgefahr: Einfuhrsteuer (19%) ab etwa 26€ Gesamtwarenwert (wenn von Kanalinsel Jersey versendet wird).
Zusätzlich kann eine Auslagepauschale der deutschen Post in höhe von 6€ erhoben werden (wird nicht fällig, wenn die Sendung beim Zollamt hinterlegt wird).
Zahlung & Versand Lootstore
Zahlung per Paypal, Vorkasse (Überweisung) oder auf Rechnung (Klarna).
Versand pauschal 3,99 € pro Bestellung. Ab 49€ Bestellwert ist der Versand kostenlos.
---