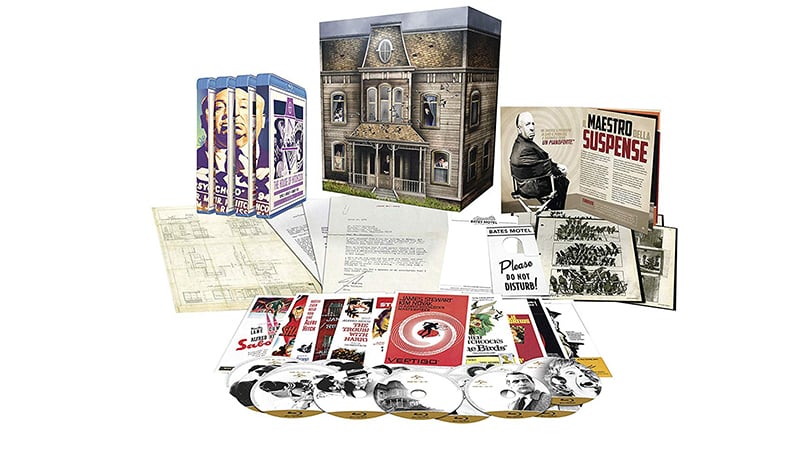 Ab sofort kann man in den USA & Frankreich eine "The House of Hitchcock Collection" [Blu-ray] vorbestellen. Laut den Angaben der Händlerseiten verfügen sowohl die französische als auch die amerikanische Collection über deutsche Tonspuren.
Das Set enthält neben Postkarten, Briefen, Blueprints, Notizen und weiteren Gimmicks, folgende 15 Filme:
North by Northwest
Psycho
The Birds
Marine
Torn Curtain
Topaz
Frenzy
Family Plot
Saboteur
Shadow of a Doubt
Rope
Rear Window
The Trouble with Harry
The Man who knew too Much
Vertigo
Darüber Hinaus gibt es noch 7 TV-Episoden "Alfred Hitchcock Presents" und 3 TV- Episoden "The Alferd Hitchcock Hour".
Der Release der Sets ist voraussichtlich am 01.10.2019 bzw. am 02.10.2019.
Jetzt bestellen
Zahlen kann man bei Amazon (.it | .fr | .es) per Kreditkarte und neuerdings per Bankeinzug (SEPA-Lastschrift). Einloggen kann man sich mit den deutschen Amazon Account Daten.
Bei Amazon.com kann man nur per Kreditkarte zahlen und einloggen kann man sich mit den deutschen Account Daten. Amazon.com berechnet die Steuer/Zoll "Tax" (einen Schätzwert) und Versand gleich mit beim Checkout. Bezahlen sollte man hier in USD, da man so (durch den schlechteren internen Wechselkurs) günstiger liegt. Alternativ kann man per Gutscheinkarte (Gift-Card) bezahlen, die ihr euch beispielsweise bei MMOGA bestellen könnt.
---