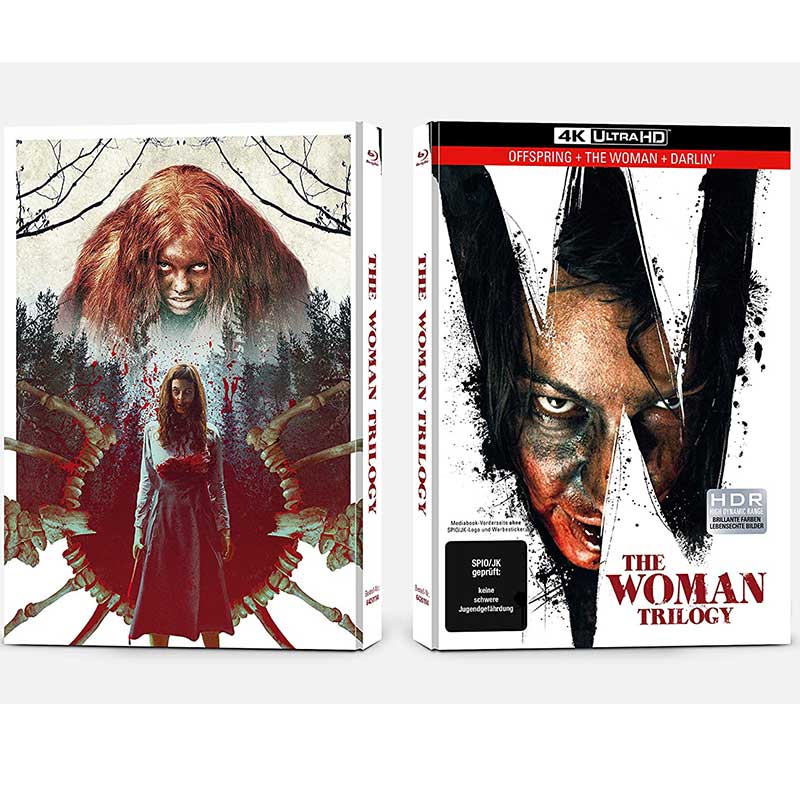 Update: Amazon senkt den Preis des 4K Steelbooks zum Release auf 35,08€.
---
Ab sofort kann man die "The Woman Trilogy" in einem Blu-ray Mediabook (3 Discs) und in einem 4K UHD Mediabook (3 Discs) vorbestellen. Die Filme liegen hier jeweils Uncut vor, mit einer Gesamtlaufzeit von 283 Minuten.
Folgende Filme sind enthalten
Tonspuren
Deutsch HD-DTS MA 5.1
Englisch HD-DTS MA 5.1
Deutsch HD-DTS MA 7.1
Bonus
24-seitiges Booklet
Audiokommentar von Regisseur/Produzent Andrew van den Houten
Audiokommentar von Autor Jack Ketchum, Andrew van den Houten und Kameramann/Produzent William M. Miller
Interview mit Pollyanna McIntosh und Andrew van den Houten
Fly on the Wall – Hinter-den-Kulissen-Dokumentation
Progeny: The Birth of Offspring – Making-of
First Stolens Bailout – Featurette
Erweitertes Interview mit Autor Jack Ketchum
Restaurations-Bildvergleich
8 Webisode-Featurettes
Audiokommentar von Regisseur Lucky McKee, Editor Zach Passero, Sounddesigner Andrew Smetek und Komponist Sean Spillane
Audiokommentar von Hauptdarstellerin Pollyanna McIntosh
Audiokommentar von Filmkritiker Scott Weinberg
Audiokommentar von Lucky McKee
Dad on the Wall
75-minütige Hinter-den-Kulissen-Dokumentation von Mike McKee
Malam Domesticam – Making-of
Meet the Maker – Featurettes
Entfallene Szenen
Kurzfilm Mi Burro von Zach Passero (produziert von Lucky McKee
Entfallene Traumsequenz Darlin's Dream von Zach Passero und Robert D. Krzykowski
Musikclip
Trailer
Der Release ist voraussichtlich am 25.09.2020.
Jetzt bestellen
4K UHD Mediabook
Blu-ray Mediabook
---