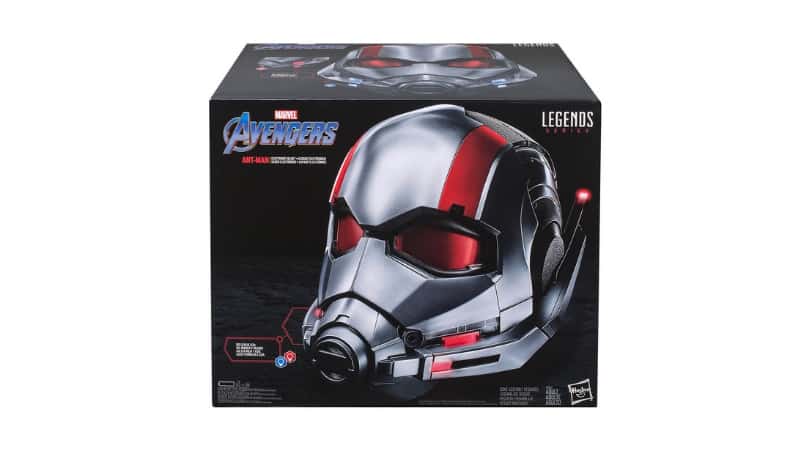 Ab sofort kann man sich in England (Zavvi) einen "Marvel Avengers: Ant-Man Helmet" (Hasbro Legends Series) vorbestellen.
Details:
INSPIRED BY ANT-MAN FROM THE MARVEL CINEMATIC UNIVERSE: Premium roleplay helmet with light special effects inspired by Ant-Man from the MCU.
ELECTRONIC HELMET WITH RED & BLUE LIGHTS: With design inspired by Pym Technologies, this collector electronic fan helmet features 6 LEDs for light FX on antennae and jawline.
HIGH QUALITY HELMET WITH ADJUSTABLE FIT: Premium collectible helmet features adjustable straps for best fit for most adult head sizes, as well as detailed interior sculpting and design.
ICONIC CHARACTER FROM THE MARVEL MOVIES: Ant-Man is featured in many MCU movies including Ant-Man, Ant-Man and the Wasp, and Captain America: Civil War.
MARVEL LEGENDS SERIES COLLECTOR HELMET: Premium roleplay helmet to complete any fan costume or collection with the high-quality design expected of the Hasbro Marvel Legends Series.
Der Release ist voraussichtlich am 15.04.2019.
Jetzt bestellen
---
Zahlen kann man bei Zavvi unter anderem per Paypal oder Kreditkarte. Gratis Versand ab 20€. Zollgefahr ab etwa 26€ Gesamtwarenwert.
---