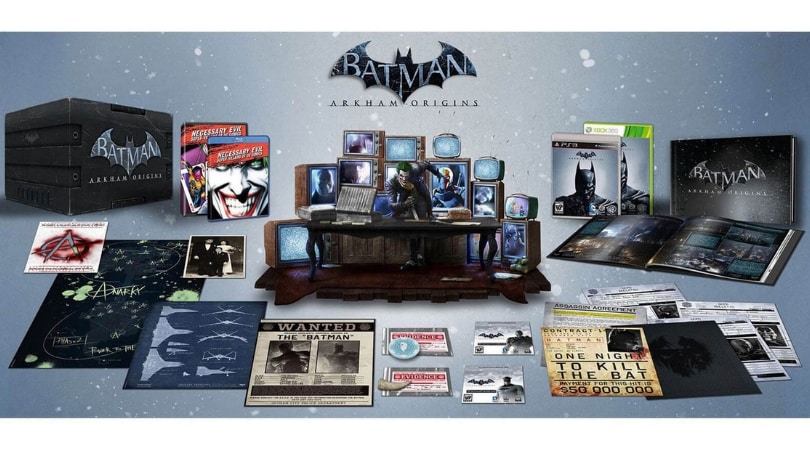 Ab sofort kann man in England (Zavvi) das "TriForce DC Comics Batman: Arkham Origins" Ultimate Collector's Set (ohne Spiel) vorbestellen.
Inhalt:
A highly detailed Joker statue created by Triforce, which features a number of LED light-up effects measuring approx. 9" x 13" x 11.5"
80-page, full-color hardcover art book measuring approx. 7.5" x 10.75" x .5"
Two key pieces of evidence taken directly from the Gotham City Police Department crime lab.
Batman Wanted Poster
Batwing Prototype Schematic
Stencil of the Anarky logo
Glow-in-the-Dark map of Gotham City
Wayne Family Photo
Assassin's Intel Dossier, including files on the 8 assassins, as well as Black Mask's contract.
1st Appearance Batman Skin: Look just like Batman did during his first appearance in Detective Comics No. 27, released in 1939.
Deathstroke Challenge Pack: Unlock the ability to play as one of the world's deadliest assassins! Usable throughout all the Arkham Origins Challenge maps. Also includes two bonus challenge maps and two bonus Deathstroke Skins.
The "Necessary Evil: Super-Villains of DC Comics" feature-length documentary from Warner Bros Home Entertainment that focuses on DC Comics' villains – including the Joker, Lex Luthor, Bane, Black Adam, Black Manta, Catwoman, Darkseid, Deathstroke, Doomsday, General Zod, Sinestro, and the Suicide Squad – that Christopher Lee narrates. Directors Richard Donner, Guillermo del Toro and Zack Snyder, as well as DC's chief creative officer Geoff Johns are featured in the film.
Der Release ist voraussichtlich am 18.01.2019.
Jetzt bestellen
---
Zahlen kann man bei Zavvi unter anderem per Paypal oder Kreditkarte. Gratis Versand ab 20€. Zollgefahr ab etwa 26€ Gesamtwarenwert.
---