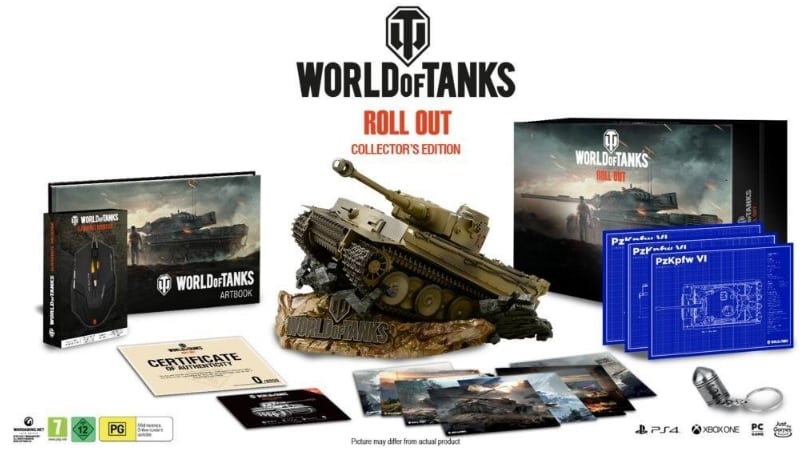 Ab sofort kann man in Frankreich (Amazon) eine "World of Tanks Collector's Edition" vorbestellen. Die Edition ist weltweit auf 5130 Exemplare limitiert (inkl. Zertifikat).
Inhalt:
A Replica of the Tiger 131 in action. (Scale 1/32; ~20cm x 28cm x 18cm; realized by the talented Tsume Art; material: PVC)
Blueprints (Industrial look; 18cm x 24cm)
Artbook (Hard Cover; 96 pages; 28.7cm x 19.5cm)
Gaming Mouse (Windows/Mac; 6 easy access buttons; 2400 dpi accuracy; grip texture on the side)
Keychain (Metal Tank bullet)
Lithographs (15cm x 20cm; numbered 1-5130)
Certificate (Numbered 1-5130)
Premium Packaging
DLC (Platform: PC or Xbox or PS4; ingame value 45€+)

Tiger 131
3 Garage slots
Crew 100%
10 Large repair kit
10 Large First aid kit
10 Automatic Fire Extinguisher
10 Chocolate
30 Premium Days
1,000,000 Credits
Der Release der Edition ist voraussichtlich am 05.10.2018.
Jetzt bestellen
---
Zahlen kann man hier nur per Kreditkarte. Einloggen kann man sich mit den deutschen Amazon Account Daten.
---