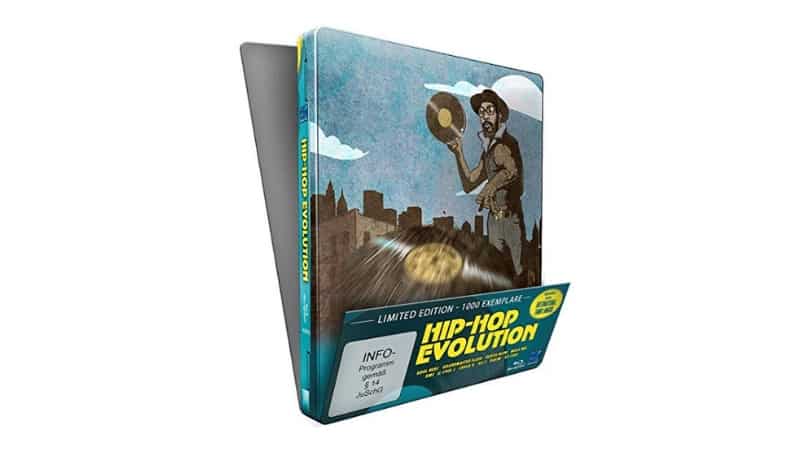 Ab sofort kann man die Dokumentation "Hip Hop Evolution" in einer FuturePak Edition (Blu-ray) vorbestellen. Die Edition ist auf 1000 Exemplare limitiert.
Die Doku kommt Uncut mit einer Laufzeit von 90 Min.
Tonspuren
Deutsch DD 5.1
Englisch DD 5.1
Handlung
"Der kanadische Radio-Journalist Shad, seines Zeichens selbst Rapper, geht den Wurzeln des Hip-Hops und Gangster Raps auf die Spur. Dafür setzt er sich in verschiedenen Interviews mit den Urvätern des Hip-Hops zusammen. Hierbei trifft er nicht nur auf Rap-Legenden wie Grandmaster Flash and the Furious Five, die Sugarhill Gang, Run DMC und Russell Simmons, sondern auch auf andere Größen der Szene wie Ice-T, Ice Cube, Public Enemy, die Beastie Boys und LL Cool J, die ohne den Einfluss der Großen nicht existieren würden. Durch diese Interviews veranschaulicht Shad spannend die dynamische Entwicklung des Hip-Hops seit den 1970ern bis in die 1990er. Ehrlich, greifbar und authentisch führt der Radio-Journalist Shad den Zuschauer auf die Pfade der Vergangenheit, auf der Suche nach den Spuren der einflussreichsten Musikgrößen ihres Genres seit den 1970ern."
Der Release ist voraussichtlich am 25.04.2019.
Jetzt bestellen
---