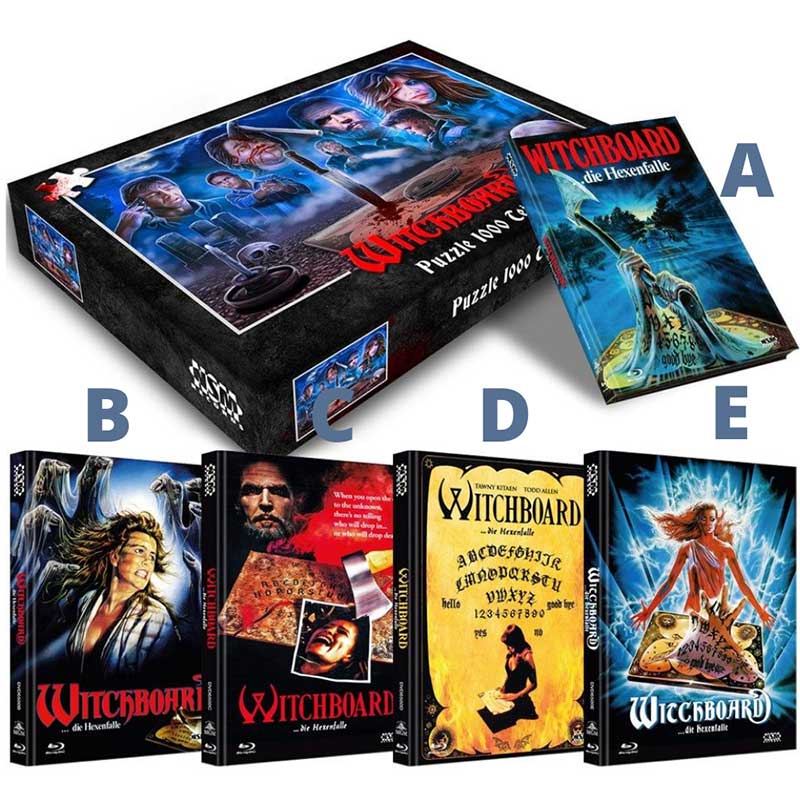 Ab sofort kann man den Film "Witchboard – Die Hexenfalle" in 5 verschiedenen Mediabook Editionen (Blu-ray + DVD) jeweils inkl. Puzzle vorbestellen. Der Film liegt hier Uncut vor, mit einer Laufzeit von 94 Minuten.
Tonspuren
Deutsch Dolby Digital 2.0
Deutsch DTS HD 2.0
Englisch Dolby Digital 2.0
Englisch DTS HD 2.0
Bonus & Inhalt
* Limitierte Auflage mit einem hochwertigen Puzzle (Made in Germany – Gesamtauflage Puzzle 500 Stück) zum Film WITCHBOARD – DIE HEXENFALLE! * 1.000 Teile Puzzle im Format 680x480mm (Premiumdruck auf leinengeprägten Papier) im 370x270x54mm großen Stülpdeckelkarton (Premiumdruck auf leinengeprägten Papier) * 16-seitiges Booklet * Audiokommentar mit dem Regisseur und den Produzenten * Originaltrailer * Deutscher ReCut-Trailer * Making of * On Set with the Makers * On Set with Todd Allen und Stephen Nichols * Life on the Set * Constructing the World of Witchboard * Cast Interviews * Verpatzte Szenen * Hinter den Kulissen * Bildergalerie * Promotion Bildergalerie * TV-Spots * DVD-Version
Der Release ist voraussichtlich jeweils am 25.08.2020.
Jetzt bestellen
---