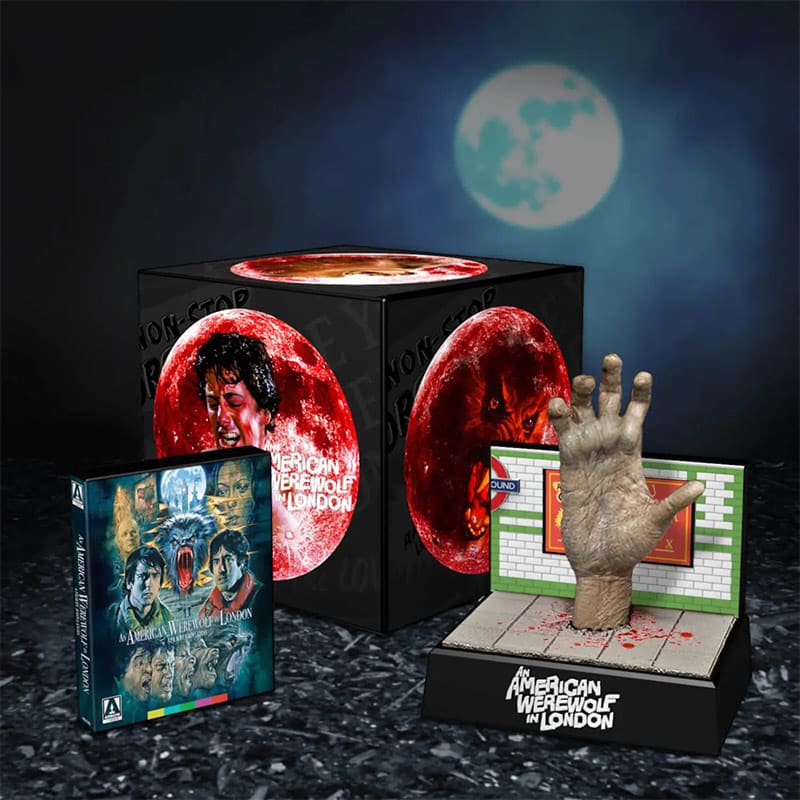 In Großbritannien veröffentlichte Arrow Films im März diesen Jahres den Horrorfilm "An American Werewolf in London", mit David Naughton, Jenny Agutter, Griffin Dunne und John Woodvine, in einer 4K Limited Edition. Nun wurde Zavvi exklusiv noch eine Collectors Edition inkl. Hand Transformation Statuette für November 2022 angekündigt. Die Statuette misst 22cm x 17cm x 25cm. Zusätzlich enthält die Edition noch alle Inhalte der Limited Edition, welche auch separat erworben werden kann. Die Collectors Edition ist auf insgesamt 1000 Exemplare limitiert.
Der Film liegt hier in neuer Restauration von Arrow Films des original Kameranegativs vor, mit englischem 1.0 Mono- und optionalem 5.1 DTS-HD MA Sound.
Details
Brand new 4K restoration by Arrow Films from the original camera negative
4K (2160p) UHD Blu-ray presentation in Dolby Vision (HDR10 compatible)
Original uncompressed 1.0 mono and optional 5.1 DTS-HD Master Audio
Optional English subtitles for the deaf and hard of hearing
Audio commentary by Beware the Moon filmmaker Paul Davis
Audio commentary by actors David Naughton and Griffin Dunne
Mark of The Beast: The Legacy of the Universal Werewolf, a feature-length documentary by filmmaker Daniel Griffith, featuring interviews with John Landis, David Naughton, Joe Dante and more
An American Filmmaker in London, an interview with John Landis in which he reflects on British cinema and his time working in Britain
I Think He's a Jew: The Werewolf's Secret, a video essay by filmmaker Jon Spira (Elstree 1976) about how Landis' film explores Jewish identity
The Werewolf's Call, Corin Hardy, director of The Hallow and The Nun, chats with writer Simon Ward about their formative experiences with Landis' film
Wares of the Wolf, a featurette in which SFX artist Dan Martin and Tim Lawes of Prop Store look at some of the original costumes and special effects artefacts from the film
Beware the Moon, Paul Davis' acclaimed, feature-length exploration of Landis' film which boasts extensive cast and crew interviews
An American Werewolf in Bob's Basement and Causing a Disturbance: Piccadilly Revisited, two 2008 featurettes filmed by Paul Davis
Making An American Werewolf in London, a short archival featurette on the film's production
An Interview with John Landis, a lengthy archival interview with the director about the film
Make-up Artist Rick Baker on An American Werewolf in London, the legendary make-up artist discusses his work on the film
I Walked with a Werewolf, an archival interview with Rick Baker about Universal horror and its legacy of Wolfman films
Casting of the Hand, archival footage from Rick Baker's workshop showing the casting of David Naughton's hand
Outtakes
Storyboards featurette
Original trailer and teaser plus TV and radio spots
Extensive image gallery featuring over 200 stills, posters and other ephemera
Reversible sleeve featuring original poster art and artwork by Graham Humphreys
Double-sided fold-out poster
Six double-sided, postcard-sized lobby card reproductions
Limited edition 60-page, perfect-bound book featuring new writing by Craig Ian Mann and Simon Ward, archival articles and original reviews
Jetzt bestellen
Collectors Edition inkl. Statuette (ab 07.11.2022)
Limited Edition (bereits erhältlich)
Versand & Zahlung Zavvi
Zahlung per Paypal oder Kreditkarte
Lieferung 2,99€ (Standard) 5,99€ (Tracking)
Zollgefahr: Ja (Einfuhrsteuer (19%) – Ab 150€ Warenwert zusätzlich Zollgebühren)
Zusätzliche Auslagepauschale der deutschen Post in höhe von 6€ kann erhoben werden (wird nicht fällig, wenn die Sendung beim Zollamt hinterlegt wird oder man Selbstverzoller ist).
Mögliche Steuern und Zölle werden (laut Zavvi) mit dem jeweiligen Kurierdienst abgerechnet, sodass für den Kunden keine Kosten entstehen. In der Regel fallen für sämtliche Artikel (außer Filme) keine Zollkosten/ Einfuhrsteuern an, da diese aus EU Lagern versendet werden. Sollten dennoch Kosten angerechnet werden, so kann man sich diese gegen Vorlage der Zoll-Quittung über den Kundenservice (zum Beispiel im Live Chat) zurückholen.
Zahlung & Versand Amazon Nicht-EU (UK, US, JP)
Zahlung per Kreditkarte.
Einloggen kann man sich mit den deutschen Amazon Account Daten.
Zollgefahr: Ja (19% Einfuhrumsatzsteuer – ab 150€ zusätzlich 3-4% Zollgebühren)
als Tipp): zahlen sollte man nicht in Euro sondern in der jeweiligen Landeswährung, da man so (wegen des schlechteren Amazon internen Wechselkurses) günstiger liegt