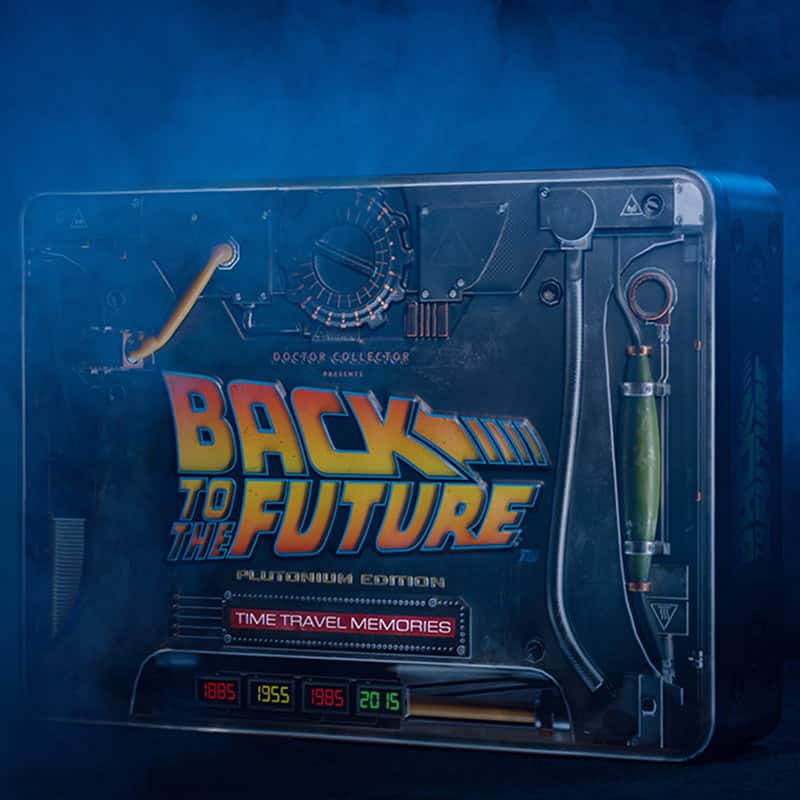 Update - 2021.03.27

Das Set ist jetzt auch

bei Amazon

verfügbar.

Es handelt sich um einen UK-Import (Verkauf durch Amazon UK). Die Zollgebühren werden beim Checkout bereits eingerechnet.
---
In Zusammenarbeit mit Universal kündigt Doctor Collector ein "Back to the Future: Time Travel Memories" Set in der Plutonium Edition an. Das Set enthält jede Menge Gadgets, Repliken, Schriftstücke, Fotos, Pins, Nummernschild Replik, Casino Chips, diverse Broschüren, uvm. aus der "Zurück in die Zukunft" Filmreihe.
Nachfolgende haben wir euch die Inhalte im Detail aufgeführt. Weiter unten findet ihr außerdem noch einige Bilder zu den Inhalten des Sets.
Inhalt des Sets im Detail
OUTATIME "Distressed" License Plate
BARCODE License Plate
PLUTONIUM BAR
1885
Hill Valley Telegraph Envelope
Doc's Tombstone Snapshot (Disappearing effect)
Delgado Mine Map (84 cm x 51 cm)
Buford Tannen Reward Poster
Hill Valley Map 1885
1955
Hill Valley High School Envelope
Lou's Cafe Menu
Lorraine & George prom night portrait
Flux Capacitor Schematic Diagram
Enchantment under the sea Flyer
Lorraine wallet portrait
Hill Valley Map 1955
1985
Twin Pines Mall Bag
McFly Family Photo (Lenticular disappearing effect)
Biff Tannen's Pleasure Paradise Casino Golden chip
Biff Tannen's Pleasure Paradise Casino Red chip
"Save the Clock Tower" Ribboned badge
"Do not open until 1985" Marty's letter
Marty's "Slacker" Tardy Slip
"A Match Made in Space" Bookmarker
"Re-Elect Mayor Goldie Wilson" Badge
"Art in Revolution" Badge
"Save the Clock Tower" Flyer
"Dr. E. Brown Enterprises" Business card
Hill Valley Map 1985
2015
Blast from the Past Bag
Cafe 80's Coaster (Lenticular effect)
Double Sided Hoverboard Magazine Advert
Blast from the Past Receipt
Cafe 80's Placemat
"You're fired" CUSCO Fax
Mr. Fusion sticker
3D Hill Valley Map (3D depth & lenticular effect)
Der Release ist voraussichtlich am 27.02.2021.
Jetzt bestellen
Versand & Zahlung Comiccave
Zahlung per Paypal und Vorkasse.
Versand ist in Deutschland kostenfrei.