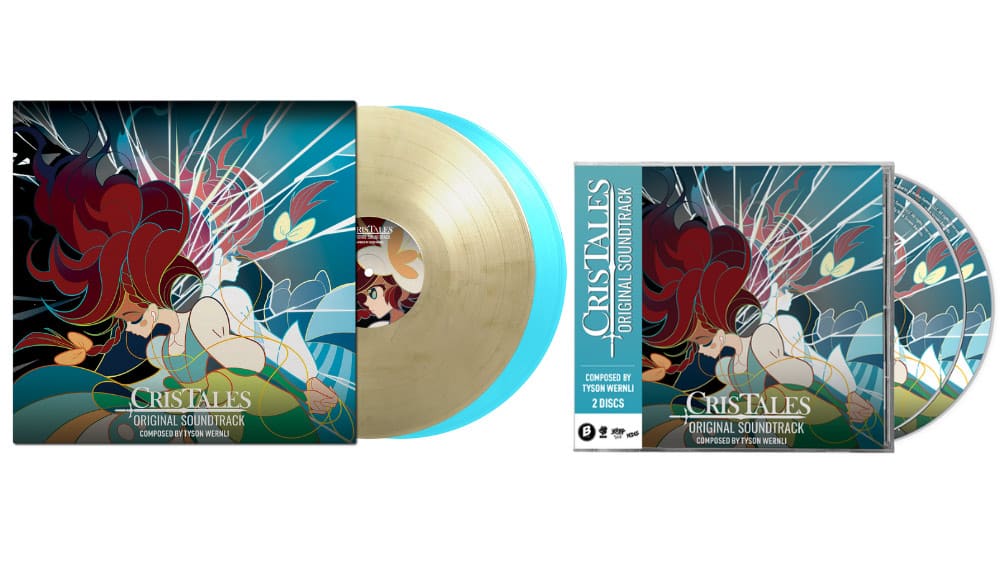 Black Screen Records veröffentlicht im Februar diesen Jahres den Original Game Soundtrack zum Spiel "Cris Tales" in einem Doppel-Vinyl Set. Die LPs in gold/weiß marmoriertem und durchscheinendem Curacao-Doppelvinyl in limitierter Auflage, kommen in einer Gatefold-Hülle und enthalten eine handverlesene Auswahl von 29 Titeln. Zusätzlich bekommt man hier einen Bandcamp-Code für den vollständigen digitalen Soundtrack (70 Songs).
Neben dem limitierten Vinyl Set erscheint der Soundtrack von Tyson Wernlis außerdem noch als Doppel-CD, welche alle 70 Songs enthalten.
Tracklist (Vinyl Set)
DISC 1 [Battle Themes]
A01 The Tale's Introduction
A02 The Anticipation of the Fight
A03 The Timeless Battle
A04 The Battle of Attrition
A05 The Battle Against Time
A06 The Decisive Battle
A07 The Sanctum Under Siege
B01 The General's Last Stand
B02 The Crow's Murder
B03 The Magician's Prestige
B04 The Battle to Defeat Destiny
B05 The Final Battle
B06 The Moment of Victory
DISC 2 [Town, Overworld & Dungeon Themes]
C01 The Cathedral of the Mothers
C02 The Floodside District
C03 The Walled City of Saint Clarity
C04 The Ancient City of Neva Tulira
C05 The Town of Cinder
C06 The Revealed Ruins
C07 The Journey Across the World
C08 The Faithful Fashionista
D01 The Forest Glade
D02 The Sewer Shortcut
D03 The Red Rivers of Mt. Thysia
D04 The Salt and the Sanctuary
D05 The Hidden Library
D06 The Witness at Rainbow Lake
D07 The Remains of Cineza
D08 The Fire in the Forge
Der Release ist voraussichtlich im Februar 2022.
Jetzt bestellen
Versand & Zahlung Blackscreenrecords
Zahlung unter anderem per Paypal, Kreditkarte, Amazon Pay, Apple Pay
Versand wird individuell berechnet
Lieferung erfolgt aus Deutschland