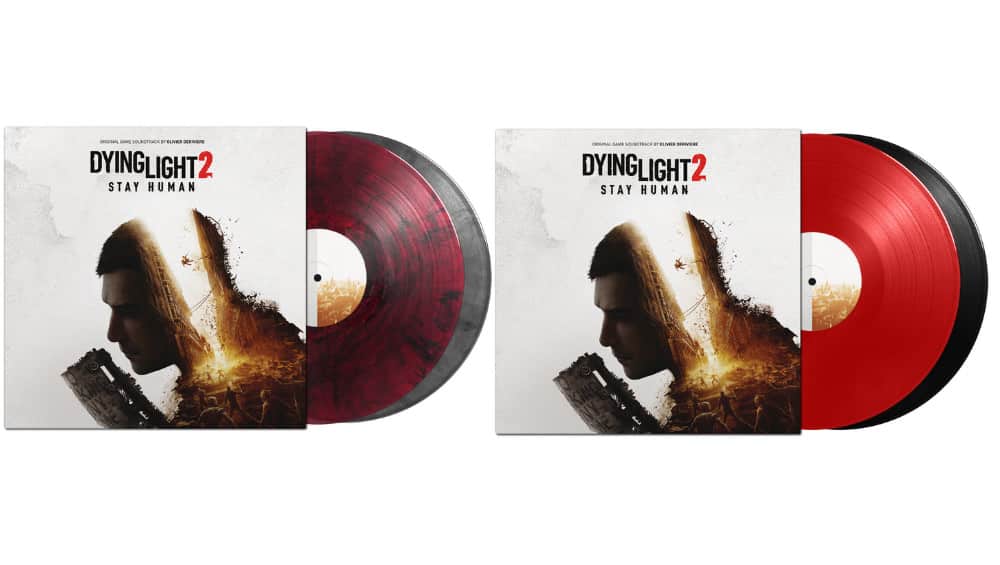 ---
Black Screen Records veröffentlicht im Februar 2022 den Original Game Soundtrack zum Spiel "Dying Light 2 Stay Human" in verschiedenen Varianten.
Der Soundtrack, welcher in Zusammenarbeit mit dem Komponisten Olivier Deriviere und Techland entstanden ist, wird auf auf limitiertem red/black & clear/black marbled Vinyl sowie als Retail Variante auf opaque red & black Vinyl erhältlich sein. Das limitierte Set steht direkt bei Black Screen Records außerdem noch als signierte Edition zur Auswahl.
Die LPs sind jeweils im Gatefold Sleeve mit Spotlack Effekten untergerbacht. Neben den Vinyl Sets erscheint der Soundtrack zusätzlich noch im Doppel-CD-Set im Jewel Case.
Tracklist
A01. Run Jump Fight
A02. There Is Hope
A03. The Good Doctor
A04. It Begins
A05. Rushing
A06. The Survivors
A07. The Peace Keepers
A08. We Are Citizens
B01. Empowering Yourself
B02. The Bound
B03. Choice And Consequences
B04. Wandering In The Wastelands
B05. A Cursed Medicine
B06. The Last Parkour
B07. Monsters We
C01. Start
C02. The Renegades
C03. The Night Runners
C04. Up The Tower
C05. Urgency
C06. Be At Peace
C07. Inside Their Lair
C08. Mia
D01. The Mark
D02. Breath Of The City
D03. Up The Windmill
D04. The Joy Of Parkour
D05. Big Boy
D06. Surrounded By Infected
D07. The Warmongers
D08. The Mission
Weitere Bilder

Der Release ist voraussichtlich am 11.02.2021.
Jetzt bestellen
red/black & clear/black marbled Vinyl
opaque red & black Vinyl
CD
Versand & Zahlung Blackscreenrecords
Zahlung unter anderem per Paypal, Kreditkarte, Amazon Pay, Apple Pay
Versand wird individuell berechnet
Lieferung erfolgt aus Deutschland