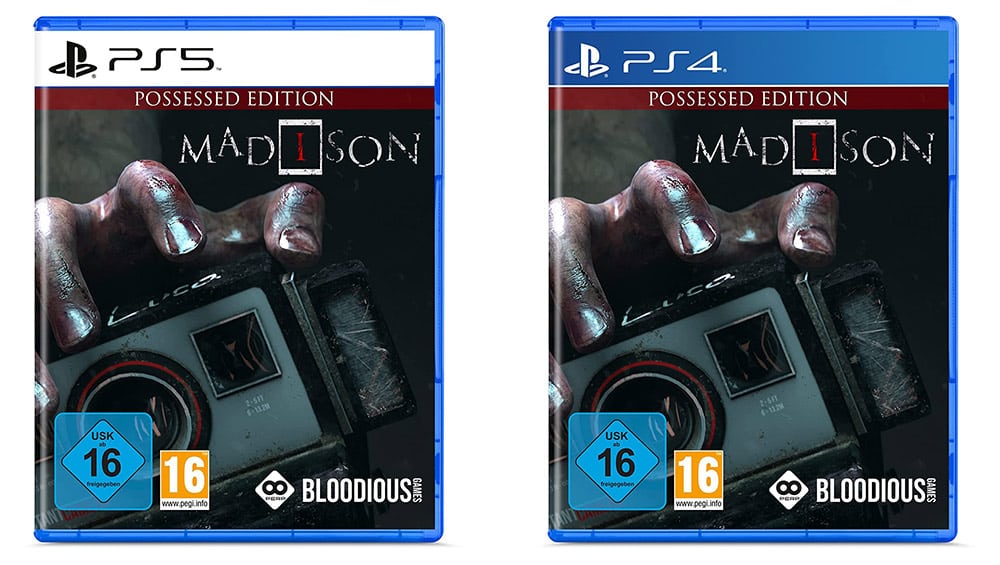 Update - 2022.05.13
Das Spiel kann jetzt auch
bei MediaMarkt
vorbestellt werden.
---
Perp Games veröffentlichen im Juni diesen Jahres das Survival Horror Spiel "MADiSON" in der Possessed Edition für die Playstation 5 und die Playstation 4. Die Possessed Edition beinhaltet das Spiel auf Disc, einen Kamera-Skins DLC, 2 Sofortfotos, The Story Book of Blue Knees, Ritualkarten, Blue Knees Liedmusikblatt, digitale Audiodateien und mehr.
Über das Spiel 
Erleide die brutale Qual eines Dämons, der dich dazu zwingt, ein blutiges Ritual fortzusetzen
Phycological und Survival Horror verschmelzen zu einem, während du versuchst zu überleben
Verliere dich dank hochwertiger Grafik und 3D-Sounds in diesem immersiven und furchteinflößenden Erlebnis
Beobachte jeden Schritt, den du machst, und achte darauf, keine unerwünschte Aufmerksamkeit zu erregen. Du wirst nicht allein sein.
Verwende die Sofortbildkamera, um diese Folter zu überleben
Entwickele die Fotos, die du manuell aufnimmst, und stelle dich der Angst, die Wahrheit ans Licht zu bringen.
Zufällig aktivierte Ereignisse und wechselnde Rätsel während des Spiels sorgen für eine höhere Wiederspielbarkeit
Durchsuche alles, sammle Elemente ein und interagiere mit ihnen, um die Entitäten zu überleben.
Der Release ist voraussichtlich am 24.06.2022.
Jetzt bestellen
Playstation 5
Playstation 4
---