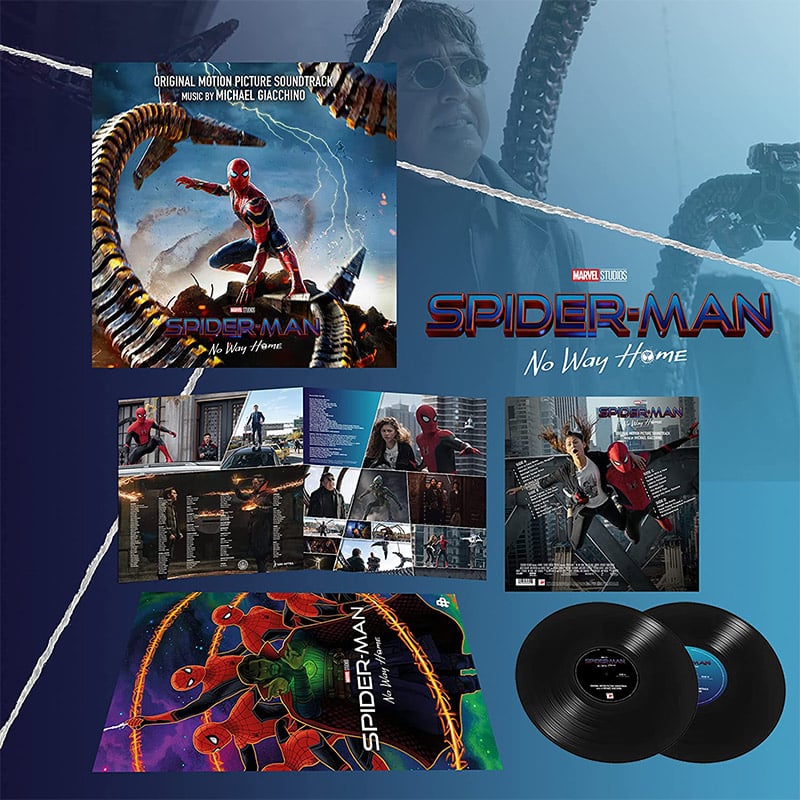 Sony Music veröffentlicht im April 2022 den Original Motion Picture Soundtrack zum Film "Spider-Man: No Way Home" auf Vinyl & CD. Der Soundtrack, geschrieben von Komponist Michael Giacchino, beinhaltet insgesamt 23 Tracks auf 2 LPs mit schwarzem Vinyl bzw. auf einer CD. Neben dem standard-Vinyl-Set wird es noch eine limitierte "Picture Disc" Variante geben, welche nur 9 Tracks auf einer LP statt der 23 Tracks enthält.
Tracklist (Doppel Vinyl-Set & CD)
1 Intro to Fake News
2 World's Worst Friendly Neighbor
3 Damage Control
4 Being a Spider Bites
5 Gone in a Flash
6 All Spell Breaks Loose
7 Otto Trouble
8 Ghost Fighter in the Sky / Beach Blanket Bro Down
9 Strange Bedfellows
10 Sling vs Bling
11 Octo Gone
1 No Good Deed
2 Exit Through the Lobby
3 A Doom With a View
4 Spider Baiting
5 Liberty Parlance
6 Monster Smash
7 Arc Reactor
8 Shield of Pain
9 Goblin His Inner Demons
10 Forget Me Knots
11 Peter Parker Picked a Perilously Precarious Profession
12 Arachnoverture
Tracklist (Picture Disc)
1 All Spell Breaks Loose
2 Otto Trouble
3 Sling vs Bling
4 No Good Deed
5 Liberty Parlance
6 Monster Smash
7 Shield of Pain
8 Goblin His Inner Demons
9 Arachnoverture
Weitere Bilder

Der Release ist voraussichtlich am 07.01.2022 (CD), am 08.04.2022 (Doppel-Vinyl Set) und am 03.06.2022 (Picture Disc Set).
Jetzt bestellen
Picture Disc Set
Doppel-Vinyl Set
CD