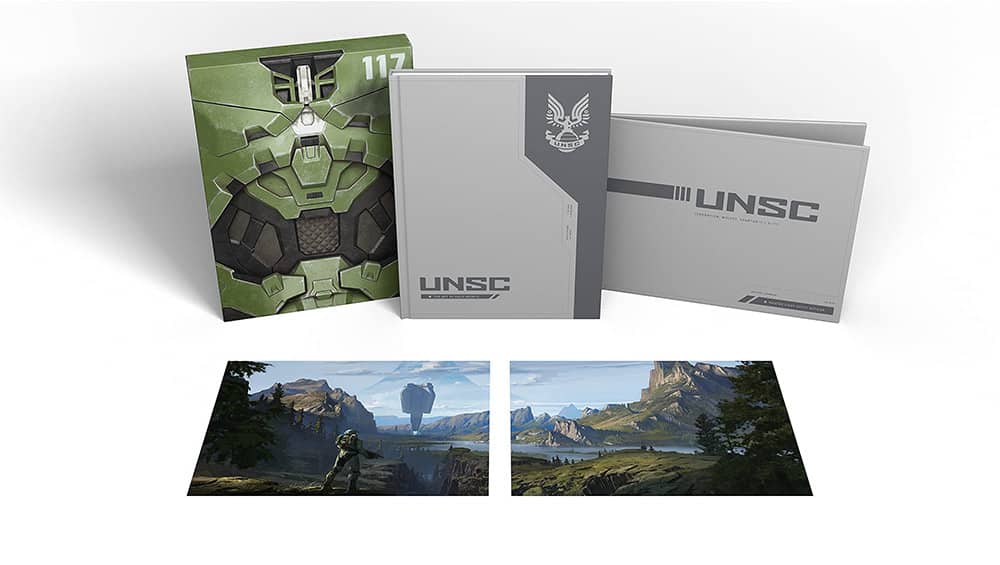 Update - 2021.12.09
Release auf Januar 2022 verschoben.
---
Dark Horse Books veröffentlichen das Buch "The Art of Halo Infinite" neben der Standard Variante zusätzlich noch in der Deluxe Edition. Das Deluxe Set beinhaltet neben dem Buch noch diverse Kunstdrucke und eine Schuber im "Chest-plate" Design. "The Art of Halo Infinite" enthält außerdem ein brandneues Cover des legendären Konzeptkünstlers und Art Director von Halo Infinite, Sparth.
Inhalt
"The legendary super soldier returns in Halo Infinite. 343 Industries and Microsoft are building the biggest and most visually spectacular Halo yet. Halo Infinite debuts on the Xbox family of consoles, including Xbox Series X, Microsoft's latest and most powerful game console. To take full advantage of its prodigious graphical prowess, 343 Industries built an all-new, next-generation game engine, giving their world-class artists the tools and technology to realize the worlds, war, and wonder of the Halo universe in unprecedented style and fidelity. 343 Industries have given Dark Horse access to the art and artists who've brought Halo Infinite to vibrant, vivid life. It's all here in unparalleled detail, the heroes you've grown to love–the Master Chief, the brave soldiers of the UNSC, as well as the weapons, vehicles, villains and vistas–and of course, the eponymous and magnificent environments of Halo itself…"
Der Release ist voraussichtlich am 11.01.2022.
Jetzt bestellen
Deluxe Edition
Standard Variante