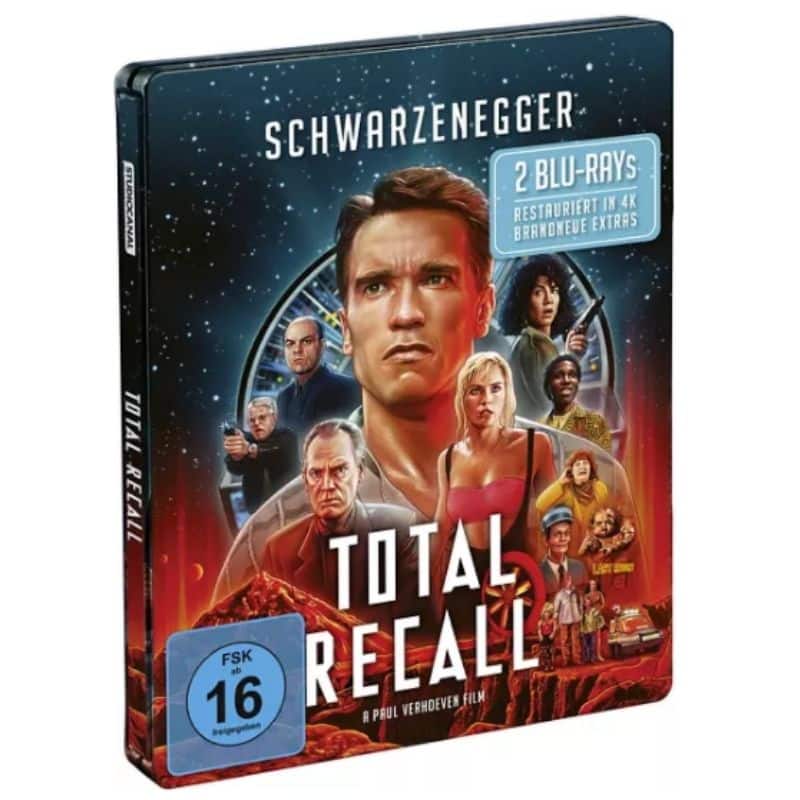 Update: Aktuell bekommt man das 4K Steelbook bei Amazon für 29,64€.
---
Studiocanal kündigt den Film "Total Recall" für den 19. November im 4K- und im Blu-ray Steelbook an. Der Film liegt hier jeweils in der Kinofassung/ Uncut vor, mit einer Laufzeit von 113 Minuten. Der Film wurde neu in 4K restauriert und es liegt neues Bonusmaterial vor. Das 4K Steelbook enthält eine 4K Disc und 2 Blu-rays. Das Blu-ray Steelbook enthält 2 Blu-ray Discs.
Tonspuren
Deutsch DTS-HD MA 5.1
Englisch DTS-HD MA 5.1
Bonus
TOTAL EXCESS: Wie Carolco Hollywood veränderte
OPEN YOUR MIND: Die Filmmusik
DREAMERS WITHIN THE DREAM: Die Entstehung von Total Recall
Audiokommentar von Arnold Schwarzenegger und Paul Verhoeven
Die Spezialeffekte von TOTAL RECALL
Making of
Interview mit dem Filmteam
Trailer
Steelbook Details
Film Titel mit Tiefenprägung (debossing)
Glossy finish
Der Release ist voraussichtlich am 19.11.2020.
Jetzt bestellen
Blu-ray Steelbook (2 Blu-rays)
4K Steelbook (4K UHD + 2 Blu-rays)
Standard Variante (Blu-ray)
---