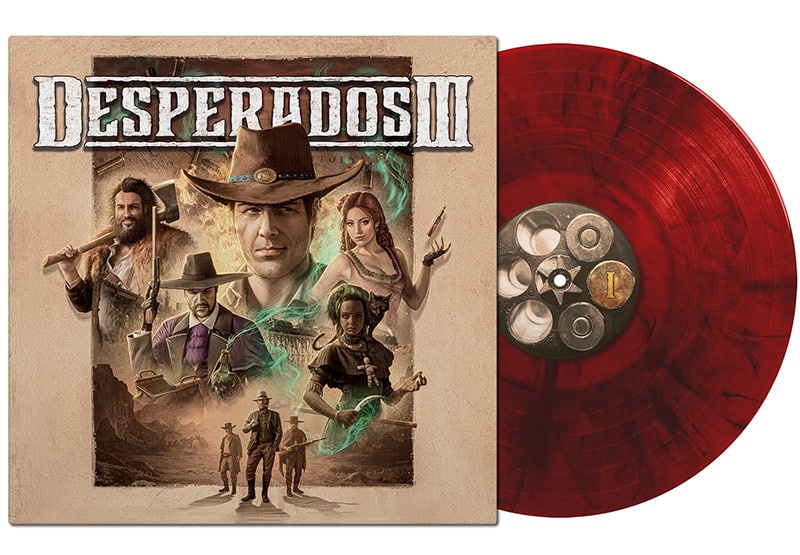 Black Screen Records veröffentlicht im Februar 2022 den Original Game Soundtrack zum Spiel "Desperados III" auf Vinyl. Der Soundtrack mit insgesamt 21 Tracks und komponiert von Filippo Beck Peccoz wird in einer limitierten Auflage mit translucent red / black marbled 180g-Vinyl erhältlich sein und enthält ein originales Artwork von Art Director Randis Albion und zusätzliches Grafikdesign von Dane Baudoin.
Tracklist
SIDE A:
A01. Desperados 3 Main Theme
A02. On The Hunt
A03. Running Late On Payday
A04. Troublemarkers In Flagstone
A05. Until Death Do Us Part
A06. High Noon
A07. The Magnificent Five
A08. Frank's Theme
A09. The Bridge At Eagle Falls
A10. One Hell Of a Night
SIDE B:
B01. Louisiana Voodoo
B02. Back Alley Jazz
B03. Into Death's Embrace
B04. Burn The Queen
B05. Dirt And Blood
B06. The Trapper & The Kid
B07. A Cart Full Of Gunpowder
B08. The Wages of Pain
B09. A Captain of Industry
B10. The Old and The New
B11. One Good Shot
Der Release ist voraussichtlich am 11.02.2022.
Jetzt bestellen
Versand & Zahlung Blackscreenrecords
Zahlung unter anderem per Paypal, Kreditkarte, Amazon Pay, Apple Pay
Versand wird individuell berechnet
Lieferung erfolgt aus Deutschland