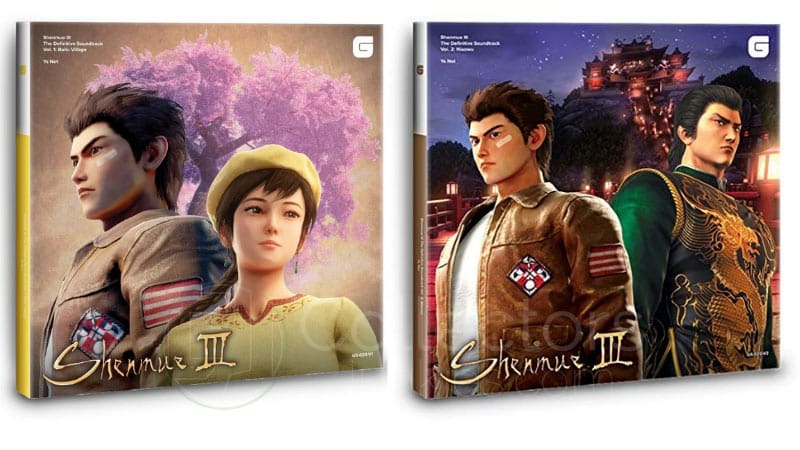 ---
Brave Wave Productions veröffentlicht die beiden Soundtrack Sets "Shenmue III – The Definitive Soundtrack" Vol. 1 Bailu Village und Vol. 2 Niaowu im August diesen Jahres auf Vinyl.
Details Vol. 1
5LP Colored Vinyls : Orange, Red, Green, Blue, Pink
Liner note and archival artwork booklet by Yu Suzuki
82 tracks + digital download code for all 196 tracks
Tracklist Vol. 1
A1 Shenmue Theme – Piano
A2 Shenhua – Sedge Flower (Original Version)
A3 Hide & Seek
A4 Village Legend
A5 With The Earth
A6 Shenhua's Song
A7 Conversation
A8 Look To The Sky
B1 The Place Where The Sun Sets – Version 2
B2 Lights
B3 Kaleidoscope
B4 Secret Of A Warehouse
B5 A Lovely Maiden
B6 The Bell Tower
C1 Father's Letter
C2 Chasing Memories
C3 Training
C4 Secret Room
C5 Seeking Truth
C6 Hermit's Nest
C7 Pastoral Village
C8 Serene Nights
D1 Mother's Cooking
D2 Max Bet
D3 Revenge
D4 Path Of The Strong
D5 Clash!
D6 Crucial Fight
D7 Bailu Chan
E1 For Tomorrow
E2 Temple
E3 Ox In Tow
E4 Over Fields, Over Mountains
E5 Indian Summer
E6 Ominous
E7 When Young
F1 Hilly Path
F2 Grand Macau
F3 Paying A Call To A Stonemason
F4 Sunrise Hills
F5 It Begins
F6 Old Man & Old Temple
F7 Fever 1
F8 Fever 2
G1 Song For An Auspicious Journey
G2 Not Even A Moment
G3 Rush Time
G4 The Villager Blues
G5 An Unknown Past
G6 Village Variety Store
G7 Late Dinner
G8 Plum Season
G9 Sentiment Within
G10 Main Theme – Kokyu Solo
H1 Traces Of Father
H2 A Mother's Wish
H3 One Battle To The Next
H4 Hidden Path
H5 Looming Phantom
H6 Blindsided
H7 Secret Mission
H8 Long For Home
H9 The Village Fortune Teller
H10 The Stonemason's House
H11 Elder Of The Old Temple
I1 Provocation
I2 Ransacked House
I3 Old House
I4 Village Outskirts
I5 Angler
I6 Hostage's Whereabouts
I7 Carrots
I8 The Place Where The Sun Sets – Piano Version
J1 Bedtime 2
J2 Rise And Shine
J3 A Bad Dream
J4 Gallant
J5 Battle Rally Opening
J6 Battle Rally
J7 Wacky Shot 1
J8 Wacky Shot 2
J9 Wacky Shot 3
Details Vol. 2
6LP Colored Vinyls : Brown, Yellow, Ocean Blue, White, Dark Green, Red Liner
notes and archival artwork booklet by Yu Suzuki
113 tracks + digital download code for all 196 tracks
Tracklist Vol. 2
B1 Shenmue – Sedge Tree (Original Version)
B2 Edge In
B3 Hound
B4 Reap The Whirlwind
B5 To Become A Master
B6 Pursuit
B7 Eager
B8 Boundless Lands
C1 Flowering Hill
C2 A Strange Land
C3 Old Clock
C4 Flow Of The Lijian River
C5 Peddler
C6 The Place Where The Sun Sets
C7 Niaowu Drama
C8 Knowledge Of The Fist
D1 Harbor Hotel
D2 Skill Book Seeking
D3 Stomping Ground
D4 Wooden Dummy Heaven
D5 New Paradise
D6 Disquiet
D7 Tech Paradise
D8 The Miserable Fortune Teller
D9 Mysterious Woman
E1 Duck Heaven
E2 Ageless City
E3 Deserted House
E4 Western Bookstore
E5 New Paradise Shopping
E6 Pearls Of Wisdom
E7 Wude
E8 Smart Ball
E9 Fried Chicken
E10 Safe Keeping
F1 Raijin
F2 Cargo Loader's Theme
F3 Secret Technique
F4 Wise Men's Qr. ~ Visiting History And Tradition
F5 Like Marries Like
F6 Brother
F7 The Bar
F8 Acrobat Chase
F9 Ren Of The Port
G1 Seeking Healing
G2 Master's Teaching
G3 Snail's Pace
G4 Shop A Go Go!
G5 Buddha Statue
G6 The Dark
G7 Predicament
G8 Prayer
G9 Fresh Picked
H1 Pry The Secret
H2 An Odd Piece Of Pottery
H3 Day Off
H4 A Peaceful Time
H5 Halcyon Days
H6 Market Scene
H7 Dubious Apothecary
H8 Riverside Blues
H9 Romance Of The Journey
H10 Street Fight
I1 Black Sesame Dumplings
I2 Exotic Hat
I3 Happy Day
I4 Door To The Final Battle
I5 Shadows Creep In
I6 Oyster Shock
I7 Millions Served
I8 Road Of Blooming Flowers
I9 People Coming And Going
I10 Fine Furnishings
J1 Liu Jiao Shrine
J2 Lament
J3 Street Stall Bustle
J4 Super Trade-In Deal ♪
J5 Happy Convenience
J6 Teahouse
J7 To The Final Battlefield
J8 Stonewall Cadre
K1 The Gentle Martial Artist
K2 Heart Of Japan
K3 Vip Room
K4 The Heart Cries Out
K5 A Fortune Is Still A Fortune
K6 Ren's Ready Wits
K7 Hideout
K8 Blue Spider
K9 Rose Garden
K10 Sharing News
L1 Snack Linda Theme
L2 A Brief Rest
L3 Reunion
L4 Terrible Incident!
L5 Lost Child
L6 Cure For Your Troubles
L7 Rescue
L8 Boat Search
L9 The Promenade
L10 Mystery Time
M1 Storage
M2 Last Battle
M3 A New Vow
M4 The Rock
M5 Burning Ambition
M6 Senary Road
M7 Unwavering
M8 Bedtime
M9 Tense
M10 Chobuchan Fighter
M11 Chobuchan Fighter 2
M12 Slam Dunk
M13 Good Golf!
Weitere Bilder
Der Release ist voraussichtlich am 27.08.2021.
Jetzt bestellen
"Shenmue III – The Definitive Soundtrack" Vinyl Set Vol. 1 Bailu Village
"Shenmue III – The Definitive Soundtrack" Vinyl Set Vol. 2 NiaowuVol. 2 Niaowu
Versand & Zahlung Blackscreenrecords
Zahlung unter anderem per Paypal, Kreditkarte, Amazon Pay, Apple Pay
Versand wird individuell berechnet
Lieferung erfolgt aus Deutschland