"The King of Fighters XV" Omega Collectors Edition & Day One Edition ab Februar 2022 – Update3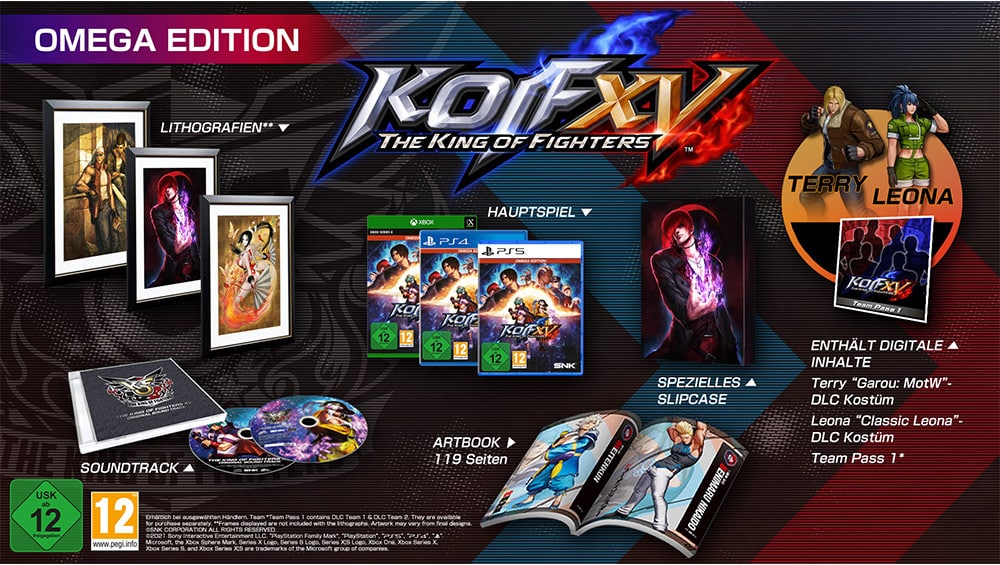 Update - 2022.02.10
Am 17. Februar ist Release. Die Omega Edition kann ab 67,95€
bei Coolshop
vorbestellt werden.
---
Koch Media veröffentlicht im Februar 2022 in Deutschland das SNK Spiel "The King of Fighters XV" in der Day One Edition für die Playstation 4, Playstation 5, Xbox One und Xbox Series X. Die Day One Edition enthält zusätzlich zum Spiel den Terry "Garou: Mark of the Wolves" DLC Costume als Code in the Box.
Neben der Day One Edition kündigt SNK außerdem noch eine Omega Collectors Edition an, welche zusätzlich zum Spiel noch diverse physische & digitale Inhalte bietet.
Omega Collectors Edition
Physische Inhalte
Das Spiel
119-seitiges Artbook
3 Lithografien
Soundtrack
Spezieller Schuber
Zusätzliche Digitale Inhalte
Team Pass 1 (Team DLC 1 & Team DLC 2)
Terry "Garou: MotW" DLC-Kostüm
Leona "Classic Leona" DLC-Kostüm
Features zum Spiel
insgesamt 39 Charaktere!
Klassische beliebte Charaktere, wiederbelebte Charaktere, neue Charaktere und mehr! Dich erwartet das epischste Traum-Match in der Geschichte von KOF.
Die KOF-Story erreicht ihren Höhepunkt!
Setze die Saga im Storymodus dort fort, wo du sie im letzten Titel verlassen hast, und verfolge sie bis zu ihrem spektakulären Höhepunkt.
Das beste Kampfsystem der gesamten Serie!
KOF XV übernimmt nicht nur das traditionelle 3-gegen-3-Teamkampfsystem der Serie, sondern wartet auch mit einem ganz neuen System mit nie dagewesener Geschwindigkeit und innovativen Elementen auf.
Einfaches und vielseitiges Online-Spiel!
Rollback Netcode wurde implementiert, um Lag bei Online-Matches zu reduzieren. Außerdem stehen dir eine Vielzahl von Kampfoptionen ganz nach deinem Spielstil zur Verfügung.
KOF ist vollgepackt mit unterhaltsamen Inhalten!
Entdecke eine Galerie mit Videos und Stimmen, eine neue DJ STATION mit über 300 beliebten Titel aus der KOF-Reihe und mehr.
Weitere Bilder

Der Release ist voraussichtlich am 17.02.2021.
Jetzt bestellen
Playstation 5
Xbox Series X/ One
Playstation 4
Zahlung & Versand Amazon (.it | .fr | .es)
Zahlung per Bankeinzug (SEPA-Lastschrift) oder Kreditkarte.
Einloggen kann man sich mit den deutschen Amazon Account Daten.
Zollgefahr: Nein
Zahlung & Versand Coolshop
Zahlung unter anderem per Paypal, Kreditkarte oder Sofortüberweisung.
Zahlung wird fällig nach Versand
Versand innerhalb Deutschlands ist in der Regel kostenlos. Für USK 18 Titel können Zusatzgebühren anfallen.
Versand aus Dänemark